Articles
Teachings of Imam Mehdi
---
The True Image of Lord Jesus Christ
Sunday, February 26, 2012
---
The True Image of Lord Jesus Christ

Images of Jesus tend to show ethnic characteristics similar to those of the culture in which the image has been created. Beliefs that certain images are historically authentic, or have acquired an authoritative status from Church tradition, remain powerful among some of the faithful, in Eastern Orthodoxy, Anglicanism, and Roman Catholicism.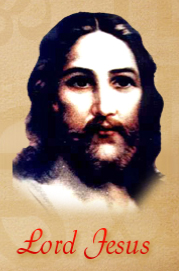 It is a well-known fact that Jesus Christ comes from Asia, therefore, His ethnic characteristics are middle-eastern not European.

The good news is that an image of Lord Jesus Christ has been prominent on the surface of the Moon. Presence of the Jesus' image on the moon couldn't be anything but an act of God. What could be more authoritative as an image of Lord Jesus than what has been ordained by God Himself? The image of Jesus Christ presented herewith is verified by His Divine Grace Lord Ra Riaz Gohar Shahi to be a true image of Jesus Christ.
Images of Jesus Christ appearing on different objects in numerous places all around the world validates the intuition that Jesus Christ has returned to this world. Jesus is walking on earth and we see Him, however, it may be the case that we do not recognise Him.
Messiah Foundation International is working towards raising the awareness of Spiritual knowledge and divine love. We herald the return of Jesus Christ to this world. We encourage all humanity to promote these divinely ordained images to the world. Appearance of these images indicates the return of Jesus Christ.
Messiah Foundation International (USA, UK, Canada, Australia)
www.goharshahi.gs