Newsroom
LATEST NEWS
---
MFI at the Maidstone Mela 2010
11 years, 8 months ago
---
By th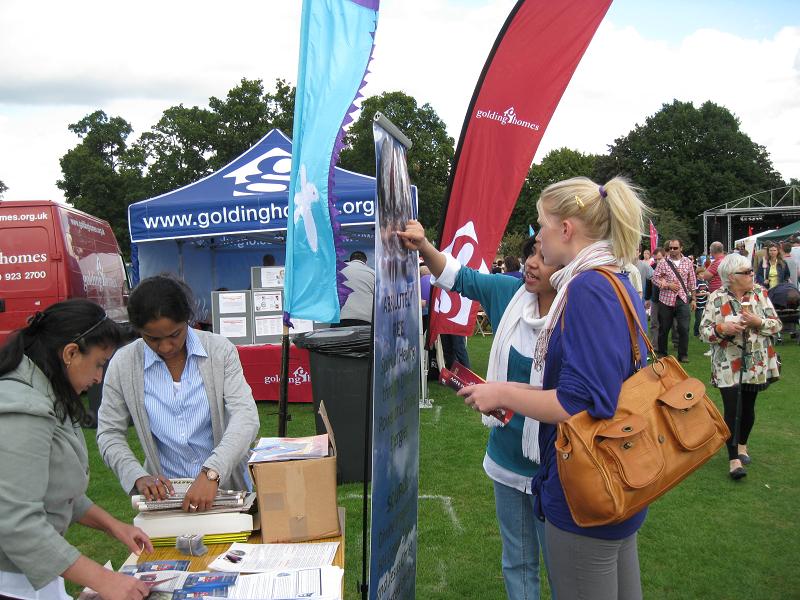 e grace of His Sublime Eminence RaRiaz Gohar Shahi, Messiah Foundation International's London Team participated in the colourful mela (festival) of Kent County, London. The crowd was approximately 10,000.
It was a grand success! We gave the heart meditation of Ra Riaz, Ya Isa, Jesus, Ra Buddha and Ra Ram. We had all age groups of people taking RaRiaz, even 10-year-olds! There is a significant Gurkha and Nepali community in Maidstone, who took the heart meditation of Ra Buddha and Ra Ram gratefully.
Two of our team members, Sana Gohar and Nilma Prabhoo were interviewed by a news channel, and the message of His Sublime Eminence RaRiaz Gohar Shahi was introduced. The Divine Signs were also shown to the interviewers.
It's amazing how gracefully the outer London counties are receptive to the message of Divine Love! We even had young children coming to our desk to pick up His Sublime Eminence RaRiaz Gohar Shahi's picture and then walking away shyly.
This mela was particularly satisfying, as the aspirants we met were interested enough in our message to go into in-depth discussion about the spiritual sciences and Eminence of Lord RaRiaz. Some people inquired whether we had a healing centre in Maidstone. We expressed our willingness to hold workshops in Maidstone if enough people were interested. One such discussion took place with Sue Towns, Chief Executive Officer of Maidstone Voluntary Action who gave her contact card for further discussion on this topic.
The Mayor of Maidstone was also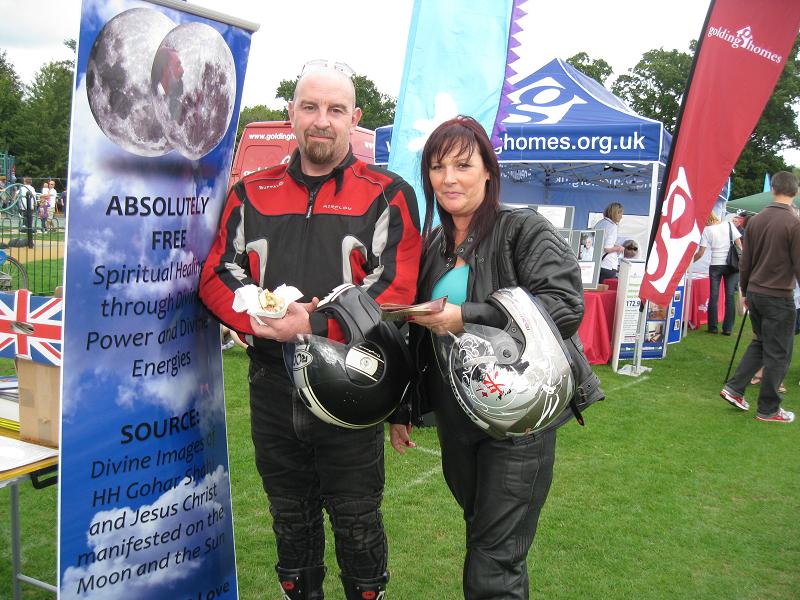 given our leaflet on his walk around the grounds. Agatha D'ouza gave our message and printed material to two Missionary Nuns from Mother Teresa's organisation in India. We had quite a few people who were atheist as well. One such couple was given our message and the heart meditation of Ra Riaz. Many Christians were also interested in our message, and took the heart meditation of "Ya Isa" and "Jesus".

Images: An aspirant being shown the image of His Sublime Eminence Ra Riaz Gohar Shahi in the Moon (top left); A young boy reads our banner (right); a couple after recieving meditation of the heart (bottom left).